Watch Taylor Swift Reunite With Selena Gomez At 'reputation Stadium Tour'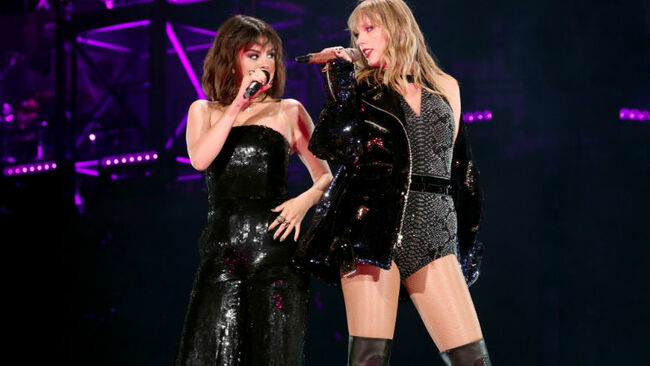 Taylor Swift's "reputation Stadium Tour" is in full effect and the latest stop at the Rose Bowl Stadium in Pasadena, California on Saturday night (May 19) saw the pop titan reunite with her best friend/fellow pop star Selena Gomez.
Just a day after bringing Shawn Mendes to her trek, the chart-topper surprised the crowd with a performance alongside Gomez, who rocked a strapless black number and offered the crowd her single, "Hands to Myself." "I have to say thank you to my best friend of about 12 years, almost 13. And the reason why she has been one of my best friends is because this person has never, ever judged a single decision I've made," Gomez told the audience. "She's always met me where I've been. She's encouraged me when I've had nothing to be encouraged about. And I don't know if I would be as strong as I am if I didn't have you and your family because you changed my life."
"But honestly thank you from the bottom of my heart for supporting someone that I know that is the most beautiful, strong, independent woman I've ever met. So thank you for supporting my best friend," she continued.
Earlier in the evening, Swift also brought out Troye Sivan, who performed his latest single, "My My My!" with the singer. Sivan made the most of his visit to the pop show, revealing that his new album, Bloom, will drop on August 31. Scroll on below to see clips from both of the surprise appearances!
Next up for Swift's "reputation Stadium Tour" includes a show in Seattle on Tuesday, followed by an end-of-week concert in Denver on Friday. Click here for more information on the pop trek!